Lessons from SHRM Talent: Insights from our attendees
Posted by NAS Recruitment Innovation on April 28th, 2016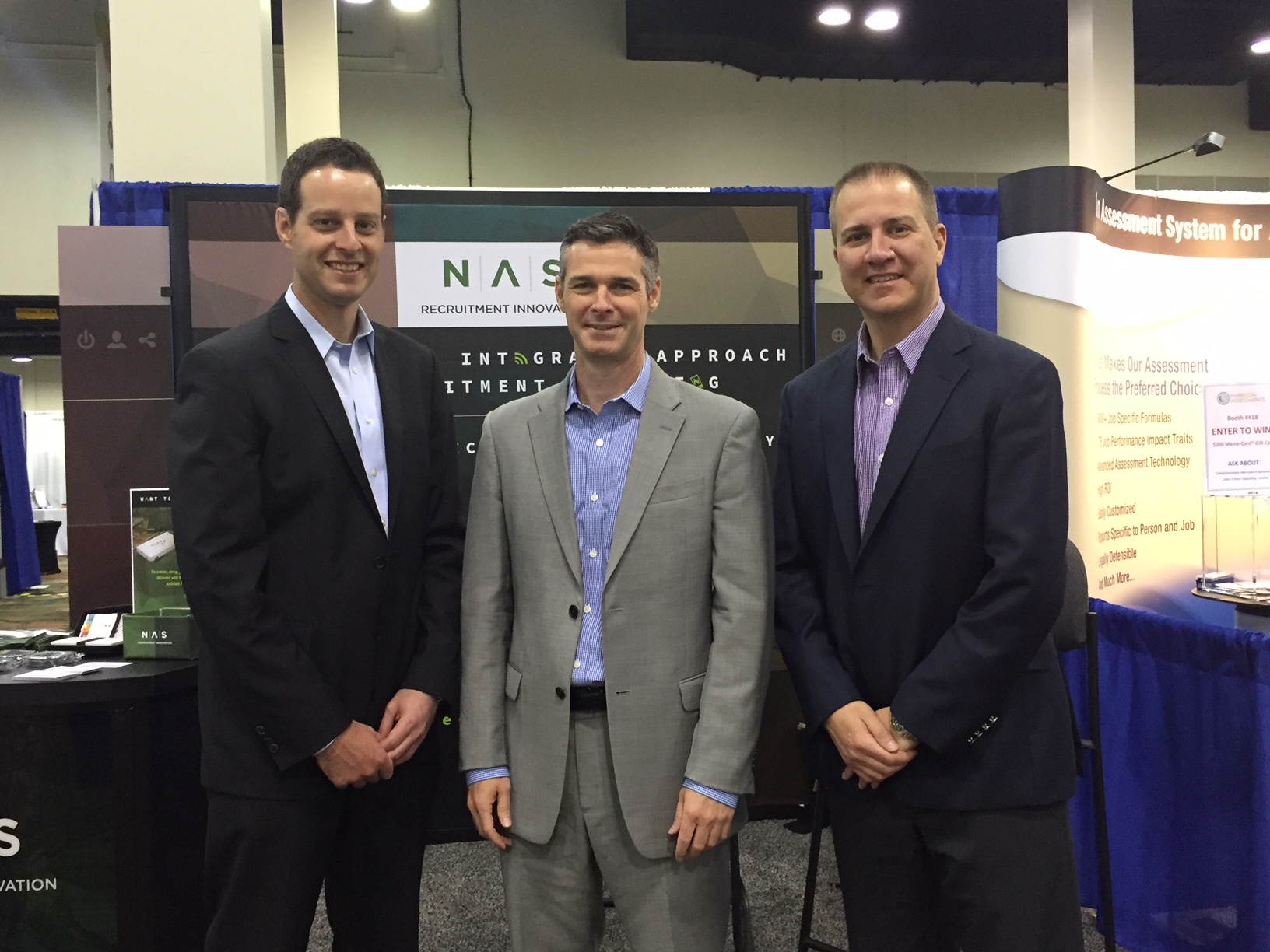 Matt Adam, Jason Rellick and Jason Weinhaus of NAS were on hand at the recent SHRM Talent Management Conference in Orlando (April 17-19), both exhibiting and hosting a reception for our clients and prospects. Here's a round-table conversation with their impressions about the state of recruitment marketing and talent acquisition in 2016, based on their observations of the show.
The overall mood
Jason Rellick: "The overall outlook among talent acquisition professionals is very positive right now. In fact, the mood of attendees and the excitement around finding and hiring top talent are the strongest I've seen in quite a while. TA professionals know they need to modernize their technologies and focus on the candidate experience – and they are now being supported by leadership in their organizations."
Jason Weinhaus: "Attendance was up this year and everyone seems to be in a hiring mode. It was good to see that there is ongoing growth for the majority of companies I spoke with. And everyone felt that the speakers and the content of the presentations were excellent."
Matt Adam: "I attended a great session on 'Moneyball for Recruiting' by Tim Sackett. It was essentially a conversation about working as efficiently as possible, even without large budgets. The focus should be on results. That's what matters most – and how companies judge their success."

The top topics
Matt: "I heard a lot of talk about three topics: the increasing prevalence of mobile, a desire to better leverage technology and the need to treat candidates as customers. The candidate experience is gaining momentum among talent acquisition professionals. And HR professionals are really starting to embrace technology and analytics."
Jason W: "Yes, HR professionals know they need to work on improving the candidate experience. One of the things I kept hearing was a desire to better leverage their employment brand, with stronger messaging about what makes them a great place to work. That translates, especially, into their career sites. Attendees this year seemed really passionate about that – knowing that they have areas to improve and ready to take action."
Jason R: "Employment branding is another topic that TA professionals are discussing – they're looking for fresh ideas on how to position their organization to attract the right talent. Talent pipelining was also top of mind – how to build and use a talent network, as well as how to be more proactive and strategic."
The concerns
Matt: "I think there is some fear about being able to fill open requisitions in a tightening labor market, as well as anxiety about positions that require niche qualifications or are located in rural or less desirable locations."
Jason R: "Many are still somewhat cautious about spending, mainly because they are not sure what is working and what is not. The goal is to be more targeted and efficient, utilizing facts and research to target talent for those hard-to-fill opportunities."
Key takeaways
Jason R: "Everybody wants to attract the right talent and they are engaged and willing to listen to new ideas. For many, it's all about finding candidates in their own spaces and then bringing them to the right place that talks about the company's brand and not the competitor's."
Jason W: "We're having conversations about the holistic approach, including a wide variety of topics like SEO, mobile, social and career sites – not just in isolation, but what can be done differently to create a better candidate experience across the hiring spectrum."
Explore our site or contact us to learn more about our integrated approach to recruitment marketing and the candidate experience.
NAS Recruitment Innovation