Top 10 creative ways to celebrate nurses
Posted by NAS Recruitment Innovation on March 23rd, 2017

National Nurses Week is fast approaching (May 6-12, 2017). We asked the team at NAS for their input on creative ways our healthcare clients are recognizing their nurses. While a general "Thank You" ad is always appreciated, you might want to take your recognition even further.
So we compiled a quick "Top Ten" list as a reference guide for you to consider when you want to add a personal touch to your RN appreciation efforts.
1. Think healthy.
The American Nurses Association (ANA) has designated 2017 as the "Year of the Healthy Nurse." This year's theme, "Nursing: the Balance of Mind, Body, and Spirit," is all about celebrating the very people who lead the charge for health and wellness. Capitalize on this year's theme and reward your RNs with any number of health-related gifts, such as lip balm, hand sanitizer, gift certificates to a local spa, on-site chair massage, etc.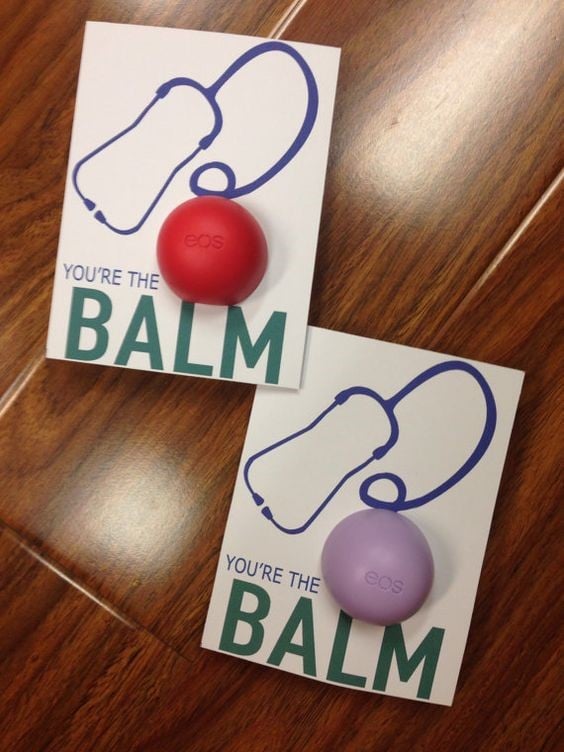 2. Money talk$.
The gift of green will never go out of style. Show your respect in a way that everyone appreciates: money. In addition to straight cash Visa or American Express gift cards, consider gifts and giveaways that nurses will actually use, such as a drawing for registration to a national conference, gift certificates for a uniform company or medical supply house (stethoscopes), Starbucks, local restaurants and hotels or movie theaters. Speaking of movies…
3. Host a movie night.
Nurses need to relax and unwind. Why not host Popcorn and a Movie Night? It's also inexpensive and easy to set up. Create a list of movies (old or new, 5-10 titles) and have nurses vote on which one they'd like to see. A movie date with co-workers is a great way to reinforce camaraderie and make new memories.
4. A bulletin board of smiles.
Nursing leadership can reach out to a local elementary school to make a poster for nurses. The example below—written on a band-aid— is a simple word that says a lot: what each child thinks of nurses. And what is more precious or heartfelt than nurses seeing themselves through the eyes of children?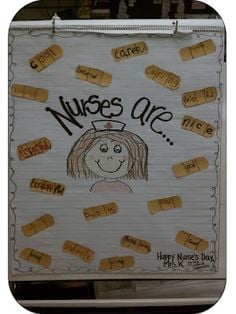 5. And the Oscar goes to…
One of our clients hosted an Oscars Red Carpet Event. After attending a learning experience, nurses then walked the red carpet, had their photo taken and received an award for attendance. The evening was highlighted by a surprise nurse speaker.
6. Road trip!
Another client hired buses and took their nurses to a ½ day shopping experience (this was spread out during the entirety of nurses week so they weren't short staffed). Those who chose not to shop received a gift card. So a win-win.
7. Every picture tells a story.
And every experience is unique. What's yours? Collect nursing stories throughout the year, then print each contribution in book form to distribute to the nursing team, or create a YouTube video that can be shared and enjoyed by all. Alternately, you can post pictures of nurses in a visible place with captions below their name, describing one of their best qualities. It's a beautifully personal, unique show of appreciation.
8. Think locally, shop really local.
In most hospitals, employees use the gift shop and the cafeteria. However, purchases are generally deducted from their paycheck. A gift card to use in the hospital's gift shop or cafeteria benefits both the organization and the recipient—and really, who doesn't like free food and gifts?
9. Give the gift of time.
It's a most precious commodity because we can never get back the time spent, nor can we pay for more…or can we? Everyone loves a paid day off. The more random, the better. Nurses will truly appreciate such a thoughtful, valuable gift.
10. Engagement is everything.
We're all busy, yet it's crucial that management remain actively engaged with employees. Ideas include lunch or dinner hosted by nursing management and executive staff ("Lunch with the CNO and CEO"); promoting nurses through your own company's social platforms (photos, stories, quotes, patient stories) and "Thank You" messaging – remember this also showcases your employer brand and company culture; and creating a blog hosted by nursing leadership that addresses current news items.
These are just a few ideas to jump-start your RN appreciation efforts for National Nurses Week.
To get started producing "Thank You" messaging, creating a campaign or ordering merchandise for your RN team, Contact NAS today.
NAS Recruitment Innovation