Finding the right people for the right jobs right now: NAS Talent Acquisition & Hiring Outlook
Posted by Tim Hawk on November 19th, 2021
By Tim Hawk, VP of Talent Strategy
& Susana Lopez, VP of Talent Strategy
November 19, 2021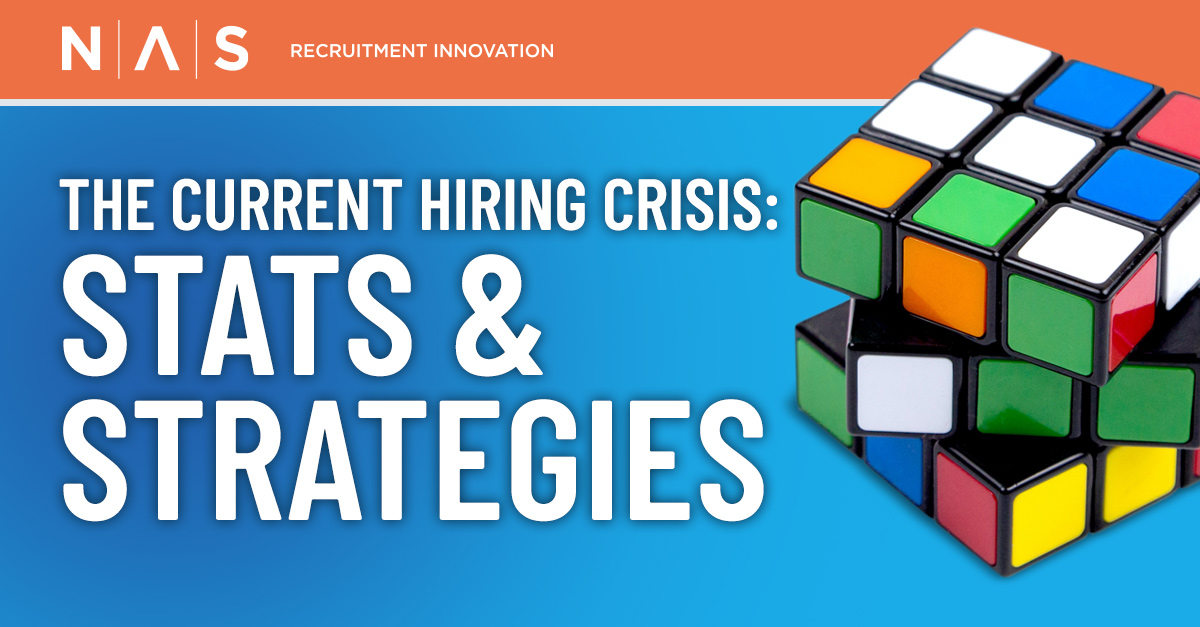 The hiring lull of 2020 has been officially replaced by the hiring frenzy of 2021, forcing HR and TA leaders to scramble to fill positions. Recent data confirms this trend:
From August to September 2021, hiring grew 2.2%
From September 2020 to September 2021, hiring is 32.2% higher
14 industries realized hiring gains above their pre-Covid levels, especially in 16 of 20 metro areas like Boston, Dallas, Detroit, Philadelphia and Seattle
10 million jobs are open, but only 7 million candidates are available
Clearly, your challenge is to hire and then retain the right candidates right now in this very competitive market. To achieve their hiring goals, the best TA & HR leaders operate a best-in-class hiring process that:
Prioritizes hiring great talent
Makes greater use of employee referrals
Exploits programmatic advertising and sourcing technology
Involves a robust recruitment marketing system
Uses metrics to gauge workforce diversity and inclusion
Measures time to hire and time to fill for ROI
They also know that candidates these days are looking for more competitive pay and benefits, flexibility in their work schedules, career growth opportunities and empathy from supervisors. To be sure, 77% define career growth as a salary increase.
What can you control as a TA/HR leader?
#1: Assess your employer brand. 
Your employer brand shows how you present yourself to candidates. You might possibly need to update your brand and tagline. In addition, you should refresh your career site so that potential job candidates find your brand to be appealing and engaging.
#2: Update job descriptions as needed.
Be honest here about expectations, compensation/benefits and scheduling. Is the job in an office or is it hybrid? Can candidates work remotely from other parts of the country? Get current employees to review the description for accuracy and if it truly encourages candidates to apply.
Moreover, make it easy for job seekers to find the position they want and emphasize on your website your Covid protocols so candidates recognize that their safety is a top priority.
In any job description, it is recommended that you address:
Pay and benefits
Potential PTO and flexible scheduling options
A sign-on bonus, especially in industries like logistics and warehouse and eCommerce
Necessary qualifications
#3: Examine your social media strategy.
How are you attempting to find candidates? And what is the message you're sending them? Take advantage of TikTok, Spotify, direct mail, YouTube, Facebook, Instagram and even satellite radio which has a global reach. Finally, don't ignore billboards! They're straightforward and simple.
#4: Review your sourcing technology.
Assess your programmatic digital advertising like Google or text ads, retargeting and geofencing. You could also partner with a local community college or employment agency to establish a candidate pipeline to your organization. Then implement the appropriate analytics to assess the outcome of these strategies.
NAS can certainly help here!
#5: Prepare for 2022!
Now is a great time to review and revise your hiring strategies, especially as the holiday season approaches and seasonal work employees are in demand. You could survey your current employees to explore their loyalty and why they continue to work for you. Use their answers to develop stronger recruiting strategies.
#6: Implement a robust onboarding and mentor program for new employees.
Onboarding and training for new employees should be thorough and substantial until they feel comfortable in their roles. Assimilation should be seamless and efficient. Senior level staff should also mentor new employees and be available to answer questions. Be sure candidates can identify the resources available to employees and the investment you plan to make in them.
To solve your hiring problems, you can look to NAS which has the resources and staff to help you better position yourself in getting the talent you want. We regularly contribute to the talent acquisition community by offering many free resources on our website that include infographics, podcasts, blogs and other resources. NAS also offers a free 30-minute consultation to learn more about these hiring strategies. Contact us today to get scheduled.
Sources:
LinkedIn Office Report October 7, 2021
US bureau of Labor Statistics November 5, 2021
"Job Ad Content: How Benefits Impact Candidate Attraction" October 27, 2021