Value City Furniture and American Signature Furniture launch new career site
Posted by NAS Recruitment Innovation on July 31st, 2017
Partnership with NAS yields results with a focus on a strong candidate experience
Cleveland, Ohio and Columbus, Ohio: American Signature, Inc. (ASI) and NAS Recruitment Innovation announce the launch of a career site for ASI's two retail brands: Value City Furniture and American Signature Furniture. Designed to make the job search experience easier for candidates, the site also offers content that showcases the company, its people and the careers it offers in multiple locations across the U.S.
Created based on the principle that the candidate experience is paramount, the site:
Is responsive, equally effective for all devices, including mobile
Is organized in a simple manner to allow job seekers to easily access content based on the job that interests them
Offers a quick and intuitive job search functionality based on the NAS ACTIVATE

™

platform
Includes videos and testimonials of real employees to tell the story of what it's like to work for the organization
Offers analytics capabilities that will enable more targeted recruitment strategies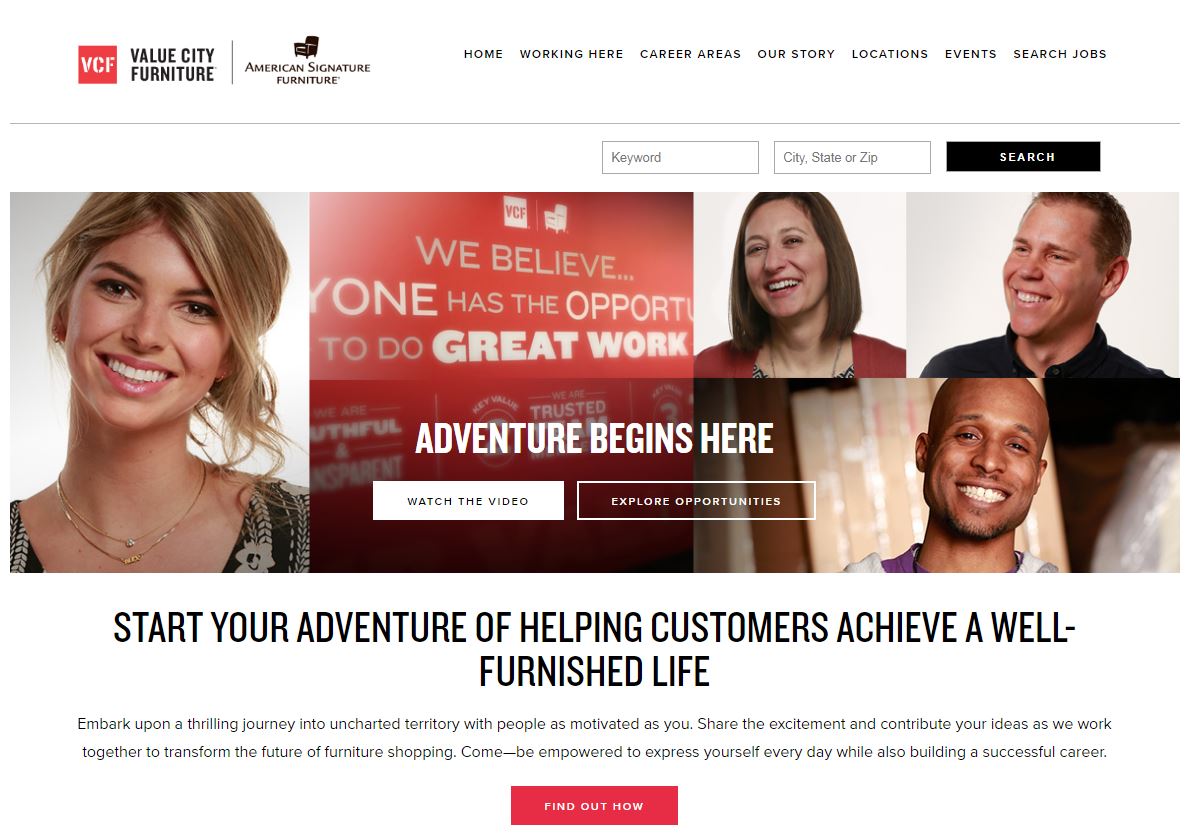 "The career site serves as the cornerstone of our talent brand," according to Dennis Kaps, Head of Talent Acquisition for American Signature Inc. "When people go to a company career site they are looking for information on culture and values, benefits and growth opportunities. This site delivers on all fronts."
"We're excited about our partnership with ASI on this project and thrilled to launch a career site that should really connect with job seekers," said Matt Adam, EVP and Chief Talent Strategist at NAS. "ASI's commitment to the candidate experience is as passionate as ours, and the implementation of the ACTIVATE™ platform will deliver best-in-category search capabilities and results."
About American Signature, Inc.: American Signature, Inc. is a privately owned furniture company based in Columbus, Ohio. It is the parent company of the retail brands American Signature Furniture and Value City Furniture, and the manufacturer of the brand American Signature. The company was founded in 1948 and is based in Columbus, Ohio. American Signature, Inc. operates as a subsidiary of Schottenstein Stores Corporation.
About NAS Recruitment Innovation: With seven decades of experience, NAS Recruitment Innovation provides client partners across many industries with an integrated approach to attracting and engaging talent. NAS offers recruitment and retention strategies, SEM and pay-per-click consulting and employment branding, as well as ACTIVATE™, a recruitment marketing platform designed to enhance the candidate experience.
For more information, contact:
Charles Kapec
NAS Recruitment Innovation
ckapec@nasrecruitment.com
NAS Recruitment Innovation