From all of us at NAS, thank you
Posted by NAS Recruitment Innovation on August 22nd, 2017
On Tuesday, August 15, NAS hosted an on-site fundraiser to support Alex's Lemonade Stand Foundation…and wow, was it a success! Beautiful weather at our corporate headquarters here in Cleveland. Helpful kids working together. Anonymous strangers donating from their vehicles
(thank you for the generous $20. At least have some lemonade!).
The kids made lemonade, made signs and decorated the lemonade stand. We sent invitations asking people to stop by NAS and say hello, share a glass of lemonade with us and help change a life. The generosity of our community was in full force and the response was overwhelming.
NAS would like to extend a heart-felt "thank you" to the kind people who participated in our efforts. Because of your kindness, you are helping us to change a child's life by supporting research to find better treatments and cures for childhood cancer.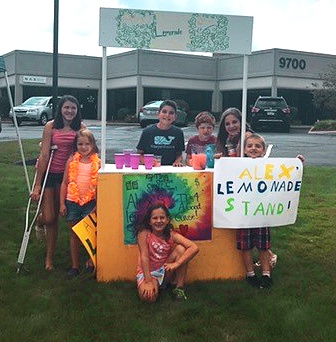 Our lemonade stand raised an astounding $390 in just a few hours.
We'll be adding that to the funds we are collecting online. There's still time to make a donation. Our sponsor page will be active until August 31.
NAS Recruitment Innovation