The advice that HR professionals are thankful for
Posted by NAS Recruitment Innovation on November 20th, 2017
In honor of Thanksgiving, the NAS team asked our clients a simple question:
What advice about recruiting are you most thankful for having received?
Here is what they had to say…
The advice I received that I am most thankful for is to truly not "sweat the small stuff!" You can plan visits down the last detail, only to have them derail completely, for example, while the physician is visiting. You do your best to get the visit back on track and then move on. It's that simple. No need to dwell on what didn't happen, just focus on what happens next!
Angela K. (Kallenbach) Gunther, MBA, PHR
Senior Faculty & Executive Recruitment Administrator
Roswell Park Cancer Institute
Angela on LinkedIn
♥
The best advice I've ever gotten that certainly applies to recruiting, as well as work and life in general: Perception is Reality. It is something I'm reminded of as I consider the candidate experience, client relationships and, of course, team dynamics. This maxim has stuck with me most, by far, and has served me well over the years.
Tiffani Pope
Manager, Recruitment – Division of Human Resources
The University of Texas MD Anderson Cancer Center
Tiffani on LinkedIn
♥
The advice I am most thankful for is to use data to drive talent acquisition strategy, especially to determine where and how to source candidates. For example, we recently worked with NAS to conduct a zip code analysis of licensed professionals who live within a certain mile radius of the Hospital to learn the locations of professionals who possess the credentials we need, so we could better determine where to hold recruiting events, advertise, etc. We also used tracking technology to obtain information on the source from which candidates are directed to apply to our ATS. This has also been very helpful in determining which advertising sources are (and are not) effective in securing completed applications or submitted resumes. Data also provide us with the opportunity to speak from an informed position when discussing sourcing strategy with hiring managers for their open positions.
Gretchen Adams
Director of Talent Acquisition
Tower Health
Gretchen on LinkedIn
♥
I was most thankful for NAS's help when we looked at our overall nurse recruitment master plan and strategy for this upcoming year. They help us put together a variety of different media and long-term strategies to reach those nurses that we all need so very badly! We worked on a number of different options to take a holistic tactical approach to attract those nurses that are looking for their next opportunity and those nurses that are not yet looking for employment.
We believe this comprehensive recommendation and approach will be a successful in attracting some outstanding nurses.
Jill Crutchfield, MBA, SPHR, SHRM-SCP
Senior Director of Human Resources
North Kansas City Hospital
Jill on LinkedIn
♥
I've found that the most effective method of maximizing your reach involves using multiple resources to recruit. Much like life, it is important to never put all your eggs in one basket.
Teresa Sessoms
Recruitment Director
FirstHealth of the Carolinas
Teresa on LinkedIn
♥
I took a training years ago at Howard University in Washington D.C. While it aligned with my beliefs, it also challenged some of the ways I had been trained to recruit. I was told, "You are not just filling a job, you are building relationships and building a workforce. Be genuine, provide useful, honest feedback, and remember not everyone has the same cultural capital around the job search." I have had so many memorable experiences with amazing talent because I engaged with them and I am forever thankful for the advice.
Amy Sara Chacon
Office of Diversity and Strategic Staffing – Human Resources
Los Alamos National Laboratory
Amy on LinkedIn
♥
Here's something else to be thankful for…our free e-books. Take a look and download them today!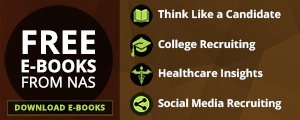 NAS Recruitment Innovation