Matt Adam Talks Recruitment Marketing in Podcast and Blog
Posted by NAS Recruitment Innovation on February 17th, 2021
Matt Adam, our Chief Talent Strategist, has been sharing his insight into recruitment marketing trends for 2021 in a variety of venues.
He is this week's guest on the Talent Tide podcast with Chris Nichols. Matt and Chris share a lively 40-minute discussion that covers a variety of topics, including the importance of employment branding, how to create a career site that meets candidate expectations and the vital importance of using analytics to drive decisions.
Here's Matt on the need for agility in 2021:
"We've talked and bandied around this concept of agility this year. You know, I think companies have found out that they've had to be more agile and more responsive than ever before. Like, look at us. We're working from home from our Zoom in ways we never would have a year ago. So, I think that ability to continue to adapt and change to whatever the market throws at us is going to be really important. And that plays right into your employment brand. The best employment brands are living, breathing entities. They change you as your organization changes. They can be aspirational for certain, but they have to be grounded in reality and fluid in a way that they can adapt to what's going on with your candidate and employee base."
For more insights, check out the Talent Tide podcast here.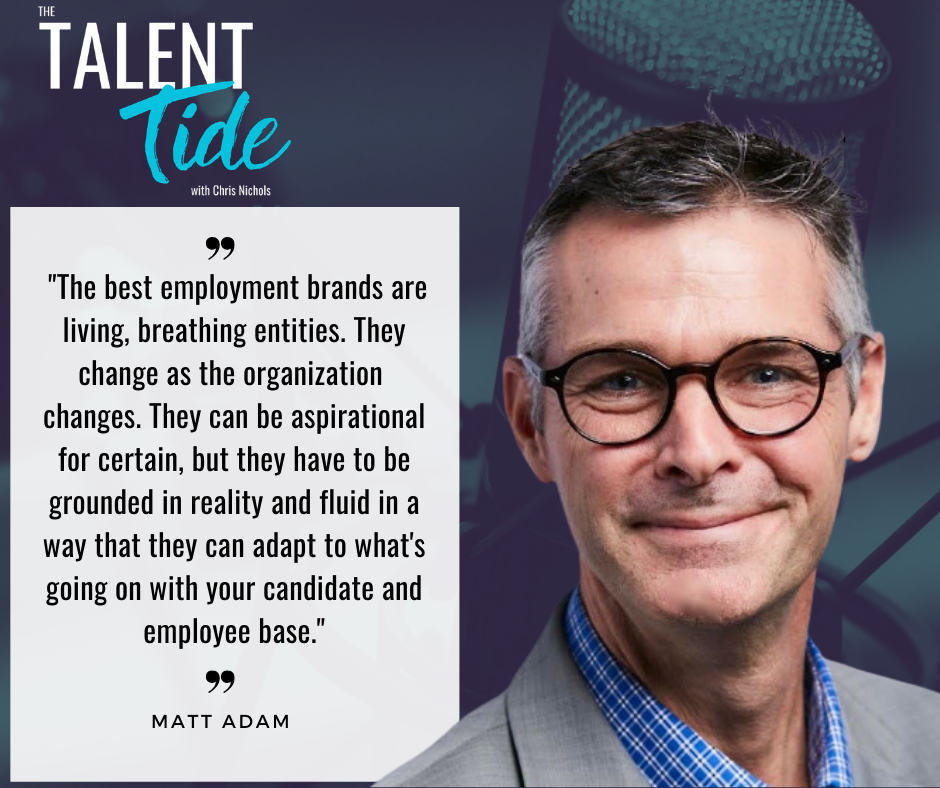 Matt was also quoted in a blog post by Lori Sylvia on the Rally Recruitment Marketing site. In a roundup of leaders from recruitment marketing agencies, Matt provides his thoughts on employment branding in 2021, as well as some highlights of 2020 successes.
Here are some of his insights into 2021 trends in employment branding:
"The two trends that we feel are going to be most prominent in the area of employer branding are authenticity and a renewed focus on diversity and inclusion. Companies realize they can no longer put forth an inauthentic message or one that is undifferentiated from their competition. Candidates are seeking an employer that is authentic, stands for something and offers meaningful work. With regard to diversity, the social justice movements of the past year have had far-reaching effects into how candidates think about work, as well. They want to work for companies that are committed to diversity and inclusion – and this needs to be evident in the branding message. We encourage our clients to showcase their employees within the brands and communicate culture and equity commitments on their career sites."
Read the Rally blog post here.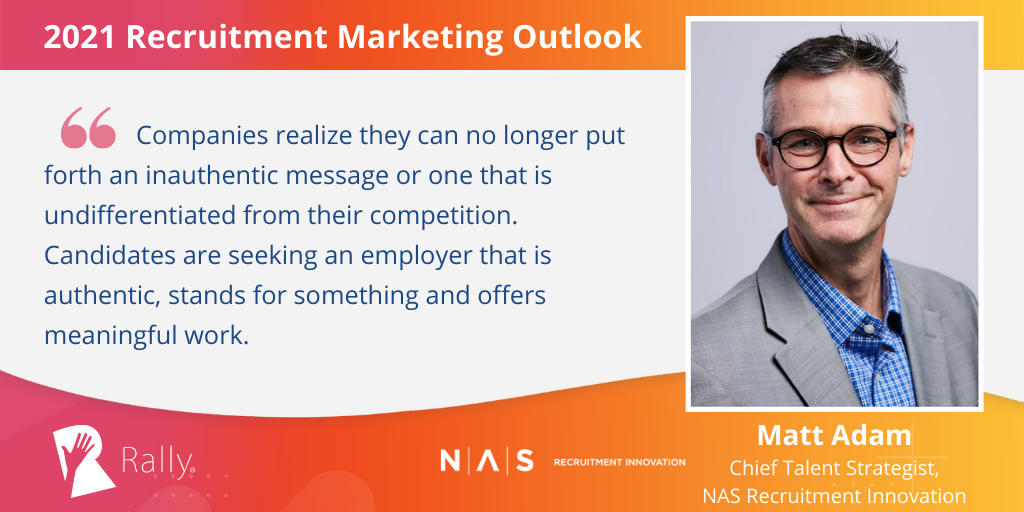 Congrats, Matt! We look forward to hearing more from you throughout the year.
NAS Recruitment Innovation