Engaging and Retargeting the Distracted Candidate
Posted by Katie Gallagher on December 22nd, 2021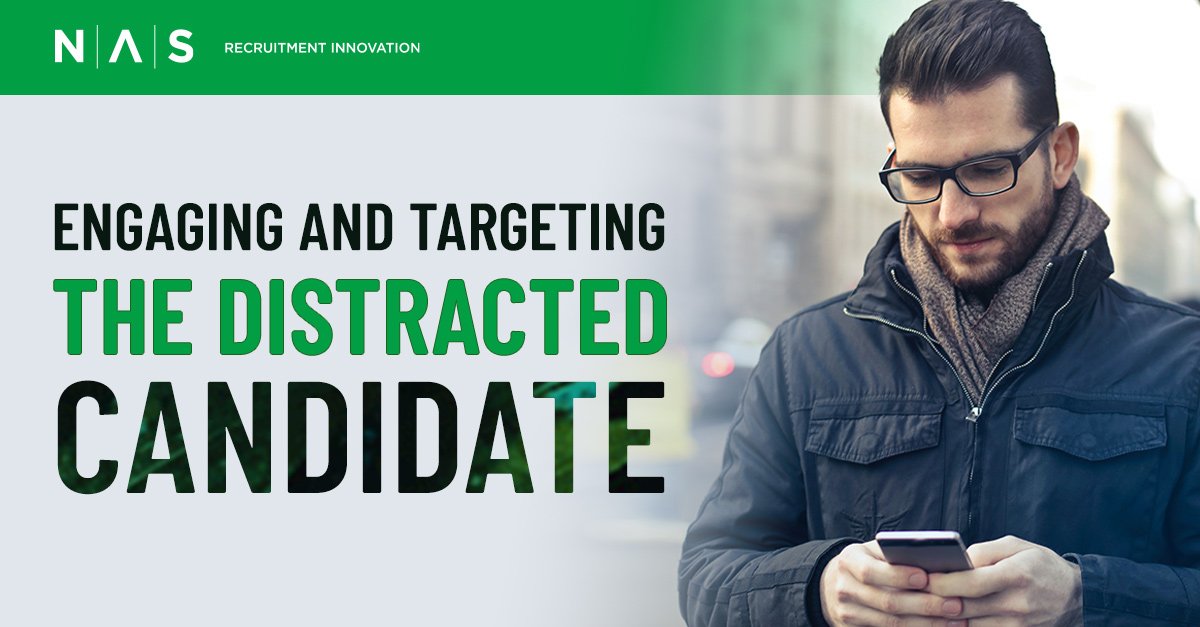 It's a common scenario these days: a job candidate begins viewing your organization's career page, but then a text, call, email or possibly another task pulls them away. Will they return? Unfortunately, not too often. In fact, 60% quit if the application process is too complex or takes too long. The fallout is your ROI goes down and hiring costs go up.
But don't panic!
You can attract top talent to your open positions, keep their attention, get them to apply and fill your hiring needs by following these four strategies:
Presenting an engaging and interactive career page with clear job descriptions.
Transparency is crucial here. Be honest about expectations, compensation/benefits and scheduling. Is the job in an office, remote, or is it hybrid? Can candidates work remotely from other parts of the country? Get current employees to review job descriptions to see if they truly encourage candidates to apply.
The best job descriptions are approximately 250 words, covering the most essential aspects of the job (duties and qualifications). Moreover, you want to make it easy for job seekers to find the position they want.
Finally, your career site should promote your brand, provide attractive visuals and tell a great story about your organization. This is your first impression, your handshake moment with a job candidate. Your objective is to link them quickly and efficiently to the job they want. You want their undivided attention as you answer their question, "What's in it for me?"
A great career page:
Demonstrates transparency and is simple in design
Begins with a catchy headline
Has strong images (no stock photos)
Features testimonials from current employees
Displays a career ladder or path
Has a specific call to action
Offers a quick application process
You don't want to waste anyone's time. The candidate should recognize immediately if this is the job for them, and once they have decided that it is, the landing page should get them excited about applying.
Have a clear and consistent online recruiting strategy.
Today, candidates are all over social media when searching for a job – in fact, they're using an average of 16 different sources (job boards, Facebook, LinkedIn, Google, etc.) when they start hunting for a new position. You should exploit programmatic advertising and sourcing technology with a robust recruitment marketing system that also takes advantage of TikTok, Snapchat, YouTube, Instagram and even streaming audio (iHeart, Spotify, Pandora, etc.), which has a global reach.
HR and TA leaders should identify specific candidates based on their demographics, interests, and skills.
Keep the online application process simple, quick and user friendly.
Indeed, reducing the length of the application process can have a major impact on preventing any candidate from becoming distracted. Simply reducing a 15-minute application process to 5 minutes will keep more candidates engaged and on track to complete the application.
According to Kelton, 86% of job candidates use mobile devices when searching for a job. and half apply using their phones (well over 70% for nurses and candidates in the restaurant and retail industries). And surveys reveal that 53% will leave a mobile site if they wait longer than 3 seconds for the site to load.
Therefore, limit the number of clicks candidates must make, the screens they have to view and the questions they need to answer. One Appcast study shows that completion rates drop nearly 50% when an application had 50 questions v. 25 questions.
Consider the advantages of retargeting.
Retargeting has recently become a must-do strategy in the hiring process. Here, display banners target users who have previously visited your career site but did not to apply for some reason on their visit. In fact, only 8.6% of candidates convert to apply on their first visit. By placing a tracking tag on the career landing page(s), you can retarget (or "tag") them when they visit that landing page and remind them to come back to your career page when it is more convenient for them.
Data shows that by implementing this strategy in conjunction with your other marketing strategies, you can increase the overall amount of applications you receive. When one NAS client implemented retargeting 4x, they saw their increase of applies month over month nearly triple! A retargeting campaign for another client saw their apply starts (number of times the ad was clicked on by candidates on the career site) jump from 633 to over 2100 and applications from 1830 to 2150 in just one month!
NAS can certainly help here.
To solve your hiring problems, you can look to NAS which has the resources and staff to help you better position yourself in getting the talent you need. We regularly contribute to the talent acquisition community by offering many free resources on our website that include infographics, podcasts, blogs and other resources. NAS also offers a free 30-minute consultation to learn more about these hiring strategies.
Sources:
Applecast
Career Builder
Dave Zielinski, SHRM, "Study: Most Job Seekers Abandon Online Job Applications."
Kelton
ReTargeter "Win the War for Talent with Retargeting:  Attract the Right Candidate"