High-Volume Recruiting: Learning from LongHorn
Posted by NAS Recruitment Innovation on September 25th, 2019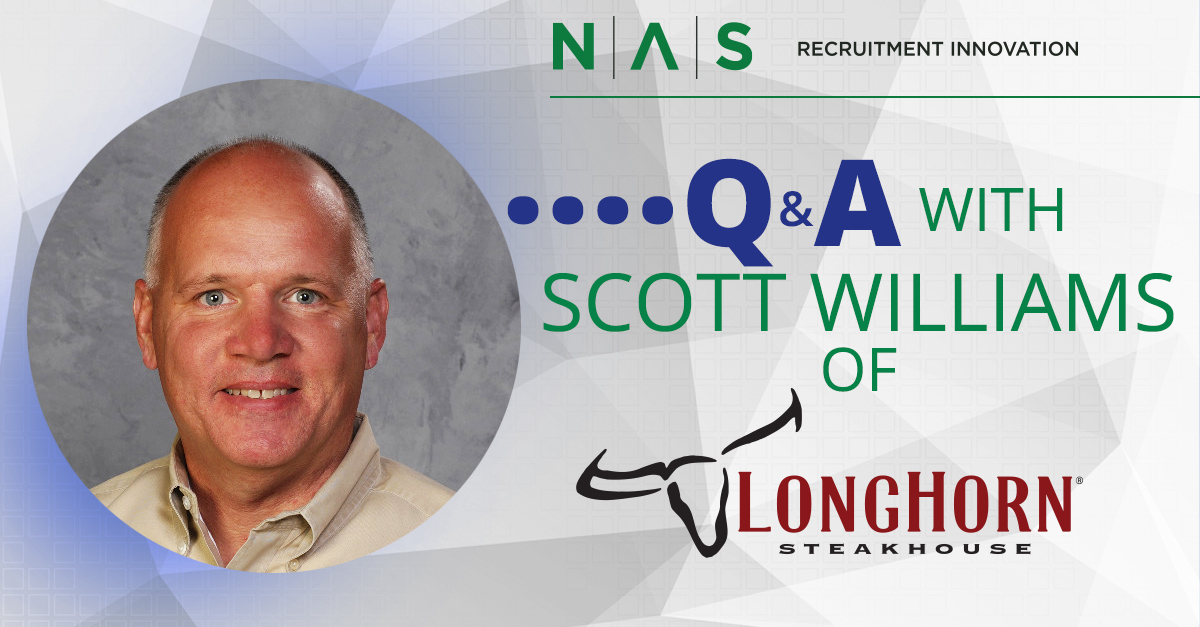 Q&A with Scott Williams, PHR, Director of Talent Acquisition, LongHorn Steakhouse, Part One
As one of the nation's premier casual dining restaurants, LongHorn Steakhouse hires 60 – 80 part-time and full-time team members per restaurant. With more than 500 locations across North America, LongHorn is an industry leader in high-volume recruiting. So, how do they manage such a seemingly daunting task? We spoke with Scott Williams, Director of Talent Acquisition for LongHorn Steakhouse, to learn how a popular steakhouse chain manages the unique challenges of high-volume recruiting in a highly competitive industry. Here's part one of our interview.
What particular challenges do you face in high-volume recruiting for LongHorn Steakhouse? How do you go about finding the right people for your restaurants?
It is not exclusively about quantity but more the quality of the applicant. Part of my role is to deliver the best possible applicant for the job, someone who should mirror our culture and standards for the restaurant. We evaluate applicants based on the required experience needed for a position in the restaurant. At the same time, we also consider the soft skills needed, such as engagement, retention, teamwork and customer service.
What are your most effective channels for recruitment?
We now have a career site that allows us to share our jobs to capitalize on our social channels. This is the preferred medium to reach our target audience, who are between 18 and 26 years old. They are "immediacy-focused" and are looking for jobs daily that are easy to reach.
We found that when we updated our career site to be mobile-responsive, it was shocking how the amount of responses escalated. Allowing someone to access our career site on their mobile phone is critical. We have learned just from our career site analytics that over 65% of our visitors are using mobile.
What are some of the strategies you find most successful in reaching your candidates?
We are on a journey right now, intensely focused on how we build upon continued engagement to improve the candidate experience. Our old career site, which was simply a static page, is now part of the partnership we have with the consumer side of our website. The consumer pages must meet consumer expectations, featuring great food, great service and a great atmosphere. They must be effective in driving our guest to our restaurants.
We also understand that our applicants are also our consumers, and they are in the driver's seat. We know that people are spending more time investigating and determining where they want to work because they have so many choices. Our responsibility is to mirror the same experience in the career site. It must feature our culture, sell the opportunities and drive candidates to our restaurants. It must highlight the reasons why a person should want to work for LongHorn.
How do you approach new restaurant openings? What strategies has NAS brought to the table that are working for you?
There was a time when hiring events for new restaurants involved literally thousands of people wrapped around the building for interviews. You can imagine the horrible experience this created. At times, it created total chaos for candidates and managers. We invested a lot of time and effort into creating a new hiring event, always keeping the candidate experience in mind.
When applying for a new restaurant opening, candidates are redirected to an automated hiring event where they are allowed to self-select their interview time. This allows them to move through the selection process in an unrushed, confident manner. The process has evolved to create events that are candidate focused, while creating a better environment for managers to complete the selection process. This environment is calm and organized versus a "cattle call" scenario.
We are operating in a new market paradigm where the candidate and consumer experience mirror one another. We apply that same philosophy to our hiring practice. The applicant experience is critical to the post-consumer environment because we know that a lot of people who have a bad experience on the recruitment side never patronize the business again.
What is your philosophy about the career site? Which features do you think are the most crucial to your success in turning visitors into applicants?
We are focused on the need to remove all resistance in the application process. Our career site features an interactive map of store locations, engaging social content authored by our own staff members and an anchored search bar so candidates can apply from anywhere within the career site experience.
You have been implementing programmatic buying. Any thoughts on how that will affect your strategies and budgeting?
We are embracing the necessity to think differently about how we get our messaging out there and how we recruit talent. I know it's a cliché and probably overused but it is true; we can't continue to use the old post-and-pray methods hoping we would get the same results. With programmatic posting, we are actually able to measure our return on investment. This allows us to adjust our media resources accordingly, in real time. We do not have to worry about remembering which recruitment platforms work or don't work. Programmatic buying operates behind-the-scenes so we are making decisions based on quantifiable results.
LongHorn has one of the highest retention rates in your industry. To what do you attribute your success?
I believe it begins with making sure we are selecting people who are the best fit for our organization. Our culture may not be the best match for someone and we're okay with that. We encourage people to only take the job if it is the best place for them. We have also worked diligently to make sure that we support our people with a very disciplined, clear path for development. It's not like we are looking to just fill the job of a dishwasher, line cook or a server; it's about filling a job opening with someone who may also be receptive to a career.
Supporting training and development at all levels and providing growth opportunity with a clear understanding of how to get there are the keys to success. As an organization, we must be consistent and transparent while making a considerable effort to invest in how we develop people. With targeted training programs in place and the support of management, whether your goal is to be a new restaurant opener, certified trainer, restaurant manager or other opportunity, we can focus training on what is best for a team member.
Check out the Longhorn Steakhouse career site, powered by ACTIVATE™ and using chatbot technology from Paradox. And be sure to check back next week for part two of our interview with Scott, where he'll address social media engagement and incorporating an AI chatbot into the career site.
NAS Recruitment Innovation