Adopting Best Practices in Recruiting: Learning from LongHorn
Posted by NAS Recruitment Innovation on October 2nd, 2019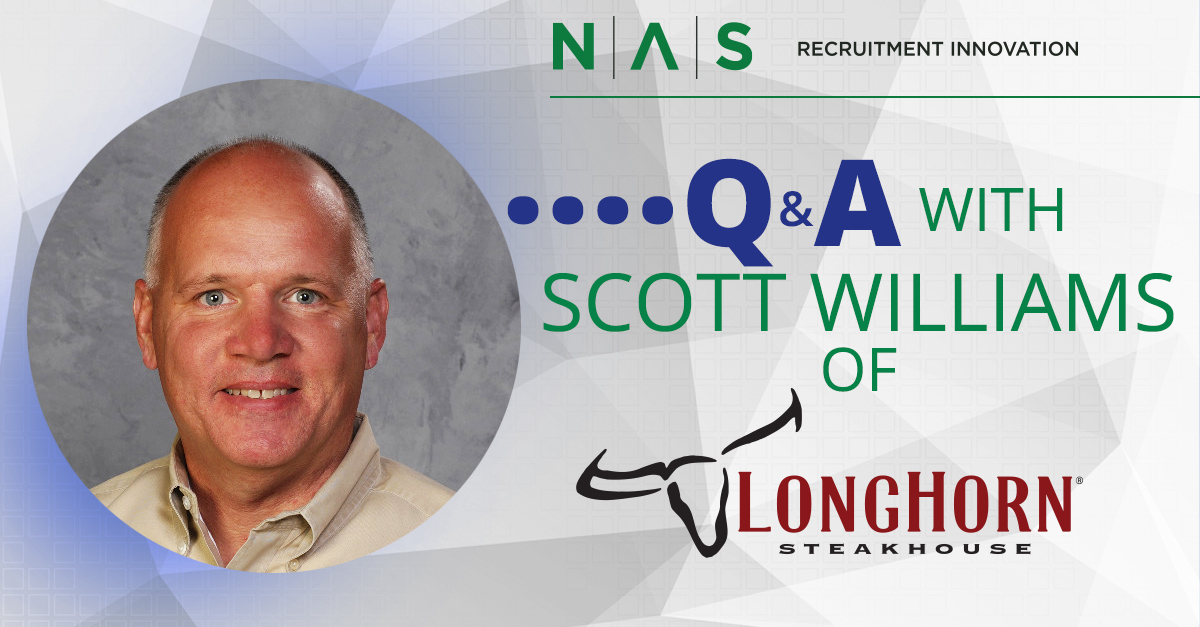 Q&A with Scott Williams, PHR, Director of Talent Acquisition, LongHorn Steakhouse, Part Two
Last week, we discussed high-volume recruiting, new store openings and programmatic advertising with Scott Williams, Director of Talent Acquisition for LongHorn Steakhouse. In part two of our interview, Scott takes us through his philosophies on candidate engagement, social media strategies and AI for recruiting.
You implement a feed that brings in social media posts from employees. Tell us about that and why you feel it is important. How do you engage your employees to act as Brand Ambassadors?
We know that the culture is alive and well at LongHorn Steakhouse, and our goal is to promote it in a transparent and authentic way. It's not a lofty ideal; it is the expectation of your audience now. We have a lot of people that might be here looking for a job. Pulling in social media posts helps to "connect the dots" for potential employees. It helps to remove that potential resistance while profiling our culture in a genuine, honest way. Everyone loves to see their name up in lights. We have our own social tag, @WEARELONGHORN, and we encourage our employees to engage at every opportunity. After all, our people are the face of LongHorn.
Their stories reflect the three lenses we're looking through which are being genuine, being transparent and highlighting our great culture. It's quite simple: when you're celebrating moments in your life and having a great time, people want to see that. Be sure to capture it and share it on your social channels. It only serves to crystallize the essence of who you are and make it transparent to potential employees.
Last year, LongHorn implemented a virtual job assistant on the career site. What led to that decision, and what have the results been so far? What types of questions get asked the most?
Olivia, the technology we deploy, was born out of how we believe the guest experience should be, whether you're dining in our restaurants or considering a career. It ensures that we are available when someone makes a decision to interact with us. It's important to us because when someone's out there researching us, their needs may lie in a question that's not answered elsewhere on our site. Again, it's all about removing resistance in the process, and that's what Olivia is designed to do.
As a consumer, the only way for me to have my questions answered would be to call the local restaurant or stop by in person which, in this day and age, are points of resistance. People are not as willing to do that, nor should they have to. With Olivia, the candidates are guests at that moment, interacting with a responsive, helpful source of information. It is a competitive advantage for us because it represents that "Moment of Truth" where they decide, "Am I going to apply now for the job or will I wait?"
We know that during the process, the candidate is constantly been barraged with other opportunities, distracting them from their original intent. We've actually made some adjustments to our process in order for us to continue to serve our candidates. This was identified through a common question asked of Olivia: "What is the update status on my application?" Here, we were able to identify another point of resistance, which was a point of concern about our transparency of the application process. Solution: we were able to provide a link back so applicants can check for updates.
When someone wants more information on the spot, they have a mechanism to access it, in real time, with Olivia. This puts the candidate in control by offering greater detail in the way they choose versus what we think is the right way.
What are your high-level goals for LongHorn Steakhouse recruiting? What do you envision as the next frontier for you and your team in recruitment and candidate engagement?
We are learning so much as recruitment technology is evolving, and we are eager to align with industry trends and best practices. We know that we have to focus our recruitment strategy on transparency; it's about being real, and it's about making sure that the candidate apply process is easy and fast with minimal resistance.
With that said, we can present all the technology in the world, but if we do not change behaviors – namely, how quickly we as recruiters are engaging with and responding to people – we will inevitably lose talent to a competitor. I do not think there is any worse experience than "the black hole" of not responding to candidates. Even if there are no openings at present for your applicant, at least you can engage them and keep them in your pipeline with a strong Talent Network in place.
Additionally, we know that we need to be featuring certain opportunities with flexible schedules while promoting our great environment and culture. When we meet someone who might be a great fit but is only available two days per week, we realize that they're going to be a great employee for two days per week.
The hope of what happens next is, because your environment is better than their other job, their availability will increase. Recognizing this potential is a critical approach right now for us. In order to be successful as a company, you have to shift your focus from the "Purple Squirrel" hire (candidate meeting every single qualification) and embrace the market of today.
Any final insight or advice you'd like to share with TA professionals who share some of the same challenges as you?
There are more job openings than people available, and the traditional talent acquisition approach must adapt accordingly. My role has evolved to focus less on acquisition, per se, and more on talent attraction and engagement. It's more about passive recruiting and creating a workstream that also focuses on talent development, training and retention.
We know the ratio of applications that it takes to fill a job with someone who is the best fit. Considering the number of people we have to hire each year, we are focused on keeping a funnel of applicants into our system. I am making sure that funnel is bringing in the right people who are the right fit. We will continue to create an environment where people want to stay. Retention rates are very high, and we now remain focused on providing a great place for people to work.
Check out the Longhorn Steakhouse career site, powered by ACTIVATE™ and employing AI Assistant technology from Paradox.
NAS Recruitment Innovation