As every one of us involved in recruitment marketing and talent acquisition knows, it all starts with TALENT. Getting the right people on board is a complex and ongoing challenge. Therefore, building a pipeline of candidates goes a long way toward helping you reach your goals. In this post, we'll talk about why you need a talent pipeline strategy, what the advantages are and how you go about building and engaging candidates who have opted into your pipeline
1. What is a talent pipeline?
You've probably seen the following stat:
Only 25% of the workforce is actively looking at any given time, but 85% is willing to talk.
And you probably know that you need to reach out to both active and passive candidates if you are going to meet your hiring goals. After all, there is a pretty huge number of passive candidates that you could convert into applicants with the right messaging and nurturing. That's why it is key to build your talent pipeline.
A talent pipeline is a collection of candidates that are engaged and can be easily contacted when relevant roles become available. They could include any of the following:
Candidates that your team has sourced

Leads from careers fairs or events

Unsuccessful applicants that you'd like to re-engage

People who signed up for your Talent Network

Individuals from diversity initiatives, executive or corporate searches

Job seekers who visited your site but left without taking action

Candidates who were referred by current employees

Current employees who may be ready for a promotion
Pipelining is an effective way for recruiters to maintain a constant flow of candidates for the business. Talent pipelines don't have to only contain candidates that match up for current roles, but often they'll be people that you want to keep tabs on for the future.
Think of them as a queue of potential applicants waiting outside your company headquarters. The longer the queue is, and the better the candidates, the easier it's going to be for your team to continually make great new hires.

2. The advantages of a talent pipeline.
Let's face it. In a largely candidate-led market, you do not have the luxury to wait for candidates to take the lead and apply. You need to have prospective candidates prepared – with the machinery all wound up and ready to be set into motion – before your specific job needs arise.
Ultimately, effective talent pipelining boils down to how you plan, strategize and leverage technology to support long-term business needs. As the demand for the best candidates is only set to increase, getting ahead of the curve will allow you to hire better talent. Some of the advantage of a talent pipeline include:
Cost savings: when you can quickly tap into a talent pipeline to fill a role, you may not need to spend on marketing efforts
Better targeting: If your talent pipeline is set up properly, you can message to specific targets that are more likely to respond to your positions
Quicker turn time: You can reach out to pipeline talent whenever a need arises, which often leads to quicker results
More awareness: Even if you are not actively recruiting, you can message candidates in the pipeline and provide them with communications that build your employer brand for the long term
So, what are the steps to building your pipeline? It comes down these three areas:
Identify: Understand who and where your current needs are
Attract: Seek and attract the audience to sign up for your messaging
Connect: Engage candidates effectively to continue to nurture and grow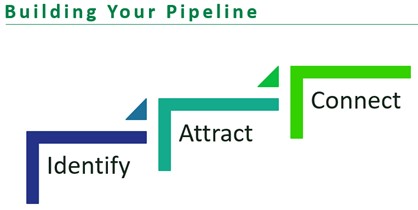 3. Identify your talent pipeline.
Here are some ways to identify who needs to be in your talent pipeline.
Look at your current skill base alignment to gauge needs. You can do this a few different ways, whether by performing a skills gap analysis or analyzing your turnover rates, new hires and internal movement. These are excellent ways to understand your current skills and underlying gaps in your organization.
Focus on future growth opportunities. More than ever before, there is a lot of uncertainty impacting recruitment, coupled with increasing competition. This can create difficulty in planning for the future. Consider who your organization will need in the coming years – and how you are planning to align your leaders, workforce and processes to meet changing demands.
Build candidate personas. These are semi-fictional representations of your ideal candidate. This persona is formed by defining the characteristics, skills and traits that make up your ideal hire. Creating personas can guide your hiring process and help you identify the talent that is the best fit for your organization.
4. Attract the right talent to join your pipeline.
Once you have identified who you need to target, you need to focus on attracting them. There are a variety of ways to accomplish this. Here are a few that we've found can strongly support building pipelines – primarily due to the low-cost point of entry and targeting capabilities.
Search and Display Campaigns
With Google, you can target anyone and everyone. I don't know one person that doesn't use Google. With proper planning in the identification stage, this type of attraction method can support all audience types. It allows for very specific targeting, but also provides flexibility to support for that agility we mentioned earlier.
Search campaigns target active users based on the search criteria they enter into the engine.
Display campaigns allow you to target the more passive candidate with a banner. These candidates may or may not be actively looking for work, but Google knows based on their search history that they fit the "profile" of the target audience.
Retargeting reaches an audience that has ALREADY expressed an interest in your company by visiting your site and allows you to take them over the finish line to complete the apply. Remember, on average only 8.6% of career site visitors convert to apply on their first visit.
Social Media
Social media has quickly become a dominant marketing channel, and recruitment is not an exception. According to Glassdoor, 79% of job applicants use social media in their job search. So, projecting a positive employer brand on social media is key to attracting the best candidates.
Most recruiters typically use social media for posting jobs. However, this doesn't contribute to employer brand building or building your pipeline. The best way to use social media for brand building is by promoting authentic conversations about life at your organization.
Celebrate employee achievements.

Share real-life stories.

Post photos and videos.

Show candidates what it is like working with you.
While this type of organic content is great for communicating with candidates who are already following and engaging with your social platforms, you will likely also need to expand your reach. A great way to do that is through sponsored posts on Facebook. Here's a great article from our blog on how to connect with candidates using Facebook.
5. Engage your talent pipeline with great content.
Finally, you need a way to get your messages out to your talent pipeline. Typically, this is done through a Talent Network and outreach platform. For example, we offer NAS CONNECT, which allows you to build a network and message via email and text to segmented audiences. It also provides for custom landing pages and email templates for your efforts, as well as data and analytics so you can measure your success and refine your efforts.
Check out the following stats:
Texts sent from employers to candidates increased by 47% in 2020.
Texts sent from candidates to employers increased by 74% in 2020. (Source: iCims)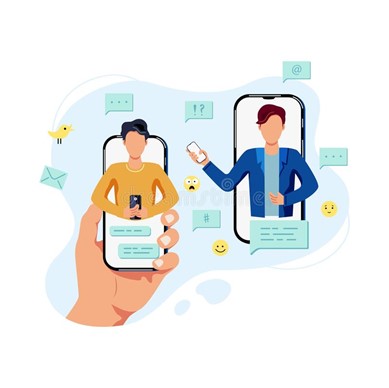 We know that employers have been stepping up their text outreach to candidates. The fact that candidates are texting back to reach employers shows how crucial it is to make this a part of your pipeline strategy. It's immediate, quick and easy – and candidates are comfortable with it.
While some of your outreach may be focused on filling specific positions such as seasonal roles or new openings, make sure that is not your only focus when doing outreach to your talent network. Even if you are not actively recruiting, you can still engage them with content that includes:
Blog Posts: Repurpose content your team has already invested in creating that's related to your company or industry.
Industry Trends and News: Assure candidates that you are an industry leader by contributing to conversations around trending topics.
Company News: Whether it be a new round of funding, office move, new hires or product releases, it benefits you and the candidate to keep them informed on the events happening at your company.
Interview Tips: Interviewing is nerve-racking no matter how experienced you are. Help candidates feel at ease and better prepared by providing them with interview tips unique to your application process.
Career Pathing: Offer examples of career growth throughout your organization to showcase why candidates should join.
6. Don't forget the analytics.
Once you have your talent pipeline strategy in place, make sure you also have the analytics to measure your results. That is the only way to know what types of candidates are most responsive, what messages are working and where you are seeing success. Our CONNECT platform, for example, lets you see:
How your campaigns are performing

Who is signing up

What content is working

What sources are driving engagement

How many candidates are opening emails or responding to texts

How many candidates are joining

How many are viewing content
This is the best way to help you understand how to keep growing, getting better and refining your efforts so you can make the right decisions moving forward.
NAS would be happy to help you build your talent pipeline. We can help every step of the way, from offering you a great platform in NAS CONNECT to helping you attract the right candidates, engage them with inspiring content and analyze the results. We can even manage the entire program for you!
To learn how we can help you build and manage your talent pipeline, get in touch with us today.